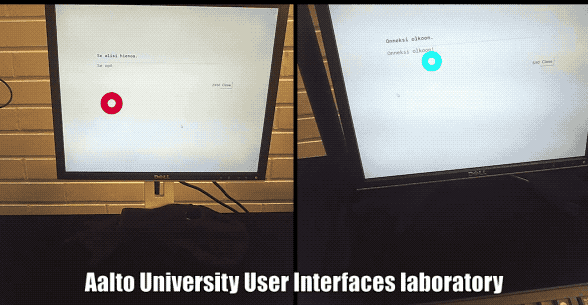 Our laboratory offers space and equipment for micro- (fingers, hands) and mesoscale (body) measurements in human-computer interaction. The laboratory and its equipment can be booked by research groups at the Aalto School of Electrical Engineering. Unfortunately we don't lend our equipment outside Aalto University.
Motion Tracking
Eye Tracking
Sensing Devices
Computers
Two high end gaming grade computersCPU: Intel Core i7 CPU @ 3.20 GHz
RAM: 32 GB
GPU: NVIDIA GeForce RTX 2080
Motherboard: Z370-A PRO
OS: Windows 10 Pro
Apple MacBook Air
Apple MacBook Pro (2)
Displays
PQ Labs G5S 55″ 4K multitouch overlay
Two BenQ Zowie XL2546 monitors
Video and Audio
Zoom Handy Recorder H4n stereo microphone
Sony ActionCam AS100
Canon EOS 70D camera
3D Printing
Past Experiments
How We Type
How We Type Mobile
Resources for Researchers
If you are planning to conduct research at the HCI lab, please refer to the following documents:
Experimenter's manual
Informed consent form
Contact Us
If you want to learn more, ask about collaboration opportunities or just give us a word, email our lab manager Julia Kylmälä at userinterfaces-lab (at) aalto.fi!
In inquiries about the lab or equipment: please ensure that your email specifies: 1) the specific equipment, 2) duration, 3) purpose, and 4) possible risks or hazards to the equipment. CC the professor of your group.